The masterminds behind eurodisc
Establishment, employees, our history
The founder
It all started from the conviction to get to know the fairest team sport in the world and to spread its message. – Founder Thomas Napieralski
Fair play is the motto, showing friendship and respect to the opponent, no "victory at any price", but the recognition of the better and the observance of the rules are in the focus of the ultimate sport. The self-managed sport does not require a referee at the highest level of performance. This is a real challenge for all players and therefore unique in the world of sports.
Motivations
A special highlight in our eurodisc® range are our ultimate sport flying discs made of bio-plastic. Since 2017 they are championship level approved by USA Ultimate. Driven by the idea that disappearing disc golf discs should eventually dissolve by themselves in nature, i.e. be biodegradable, we started to look into the topic of bio-plastics. A few years of perseverance were needed to test the different approaches and find the proper materials.
Today we produce a wide range of recognized discs for ultimate and discgolf, as well as children's and dog discs.
Our history
2022

eurodisc® goes USA

New subsidiary in the USA

2022

World Games Sponsor

Sponsor of the German and Australian national team

2022

New website

Website relaunch with new design

2022

Windmill 2022

The first time partner

2022

Mobile printshop

We print at tournaments

2022

Partner FIFD

Italian Frisbee Sports Federation

2017

Approved Championship

Disc USA Ultimate

2018

Partner from EUF

Partner of the European Ultimate Federation

2013

Partner DFV

German Frisbee Sports Association

2011

Disc Golf

Disc Golf added to assortment

2011

Organic plastic

First organic disc

2003

Foundation

Brand eurodisc
Our team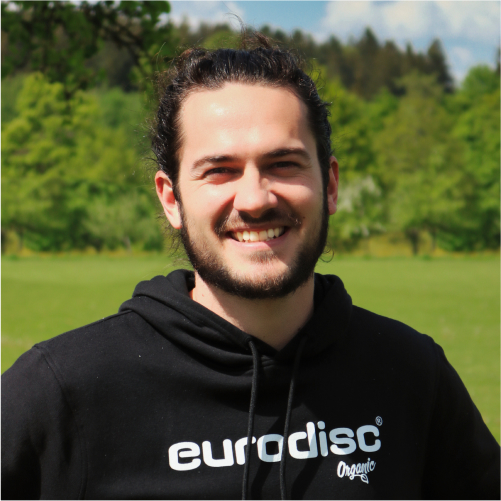 Timo
Management
The one who oils the wheels, Timo makes sure things run smoothly in the company. Whether in production, procurement or in our IT systems. He is a real jack-of-all-trades and finds a solution for every problem. If you can't find an answer to a question, Timo is your man.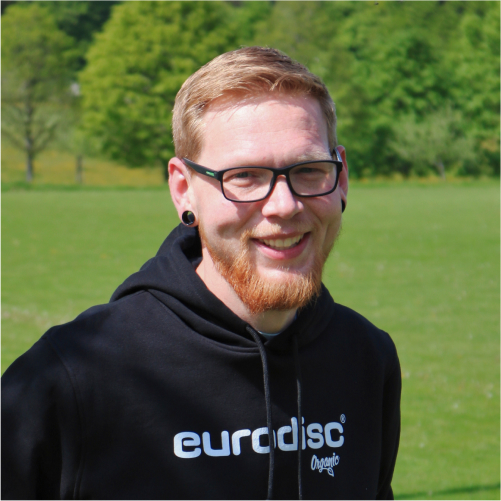 Joe
Custom Print
You have questions about our printing or want to place an order for frisbee discs with your design? Then Joe is the right person for you. He'll take care of everything you need, from inquiry to printing to delivery. In short, Joe is the one who puts a smile on our customers' faces.
Fritz
Printer
Behind the scenes, our printer ensures that your designs are printed on the discs in no time at all. You have a short-term event and need discs? No problem, Fritz makes it possible! With our UV printer we are flexible and incredibly fast.