Fair to the environment as well.
We are committed to sustainability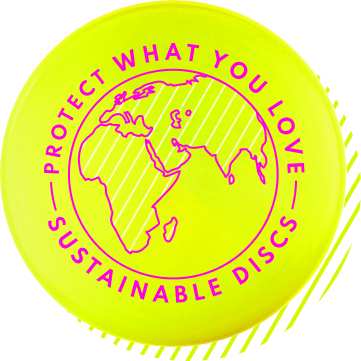 Made from 100%
organic materials
Sturdy & durable
like ordinary discs
Without petroleum:
CO2 reduced
Produced with
100% green power
Being fair to the environment
Protect what you love
Friendship, mutual respect and fair play are not just principles for us on the playing field, but a way of life. We also want to incorporate these values into our daily actions and common interaction.
For us, this also includes making the entire manufacturing process of our eurodisc® frisbee discs - from raw material to delivery to you and beyond - as sustainable, environmentally conscious and fair as possible.
We develop durable products to combine sustainability and quality.
In cooperation with our partners, we have managed to switch the production of our Ultimate (175g), Kids (100g) and Mini (25g) discs to the use of organic plastic. The discs are made of 100% renewable raw resources, i.e. bio-based plastic, which can be disposed of and recycled via normal household waste.
Did you know that our BIO plastic is just as strong, durable and recyclable as conventional plastic?
Made in Germany
By the way, the discs are produced in Germany. This allows us to guarantee short transport routes, consistently high quality and fair working conditions.
Our aspiration: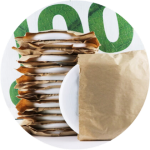 Paper bags
Every year, we save many thousands of plastic poly bags by packaging our frisbee discs in biodegradable paper bags.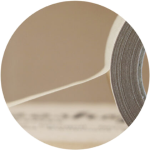 Paper packing tape
Our packages are stably sealed with environmentally friendly paper packing tape. This can be disposed of 100% via waste paper and 100% can be fed into the recycling cycle of waste paper.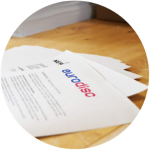 100% recycled paper
We print all our documents on recycled paper. As far as possible, we even do without printouts altogether.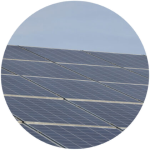 Photovoltaic system
With our photovoltaic system we can cover our own electricity needs for about X weeks per year and thus reduce our CO² emissions.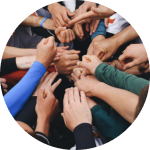 Our goals
We have by no means achieved all of our goals and are continuously working on further solutions that will make our company even more sustainable.